Ensuring Clean Water for California
California Association of Sanitation Agencies
Flushable Wipes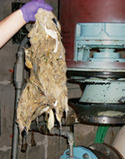 Flushable Wipes
A pump station operator begins the process of removing so-called "flushable" wipes from a seized-up pump.
Many personal hygiene wipes and cleaning products are marketed as being "flushable." But despite the confusing and misleading labels you should never flush "flushable" or "disposable" products. No matter what a label says, the only items you should flush are human waste and toilet paper. Just because something disappears down your toilet doesn't mean it won't cause a problem in your sewer pipe—or further down the line at wastewater treatment facilities. Items labeled as "flushable" or "disposable" (even "bio-degradable" ones) can get caught on roots in sewer pipes and contribute to blockages, back-ups, and overflows. Dispose of them in the trash, not the toilet!
Topics:
flushable wipes
Join CASA
CASA is the leading voice for public wastewater agencies regarding regulatory, legislative and legal issues.
Join Today!