Ensuring Clean Water for California
California Association of Sanitation Agencies
Fats, Oils and Grease

Greasy Pipe
An inside look at a greasy pipe.
Fats, Oils and Grease (FOG) is the second leading cause of sewer spills throughout the United States. Cooking grease coats pipelines in much the same way that fatty foods clog human arteries. The grease clings to the inside of a pipe, builds up, and eventually causes a complete blockage. Many people are unaware that pouring hot water and detergent down the drain only breaks up grease temporarily. Grease should never be poured down the drain. If a small amount of grease gets in your drain, flush immediately with cold water. FOG that makes its way into sewers, primarily from residences, includes frying and cooking oils, salad dressings, soups, meat trimmings and bacon fat, and greasy leftovers. By following a few simple steps, you can help prevent costly sewer spills in the future.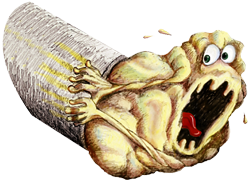 Pour small amounts of cooking oil (this includes salad dressing, frying oil and bacon fat) into an old milk carton, frozen juice container, or other non-recyclable package, and dispose of in the garbage.
Wipe dishes and pots that are coated with greasy leftovers with a disposable towel prior to washing or placing in the dishwasher.
Place fat trimmings from meat into the trash, not the garbage disposal.
Topics:
fog
programs
fats oils grease
Attachment:
FOG Brochure from Central Contra Costa Sanitary District
Join CASA
CASA is the leading voice for public wastewater agencies regarding regulatory, legislative and legal issues.
Join Today!